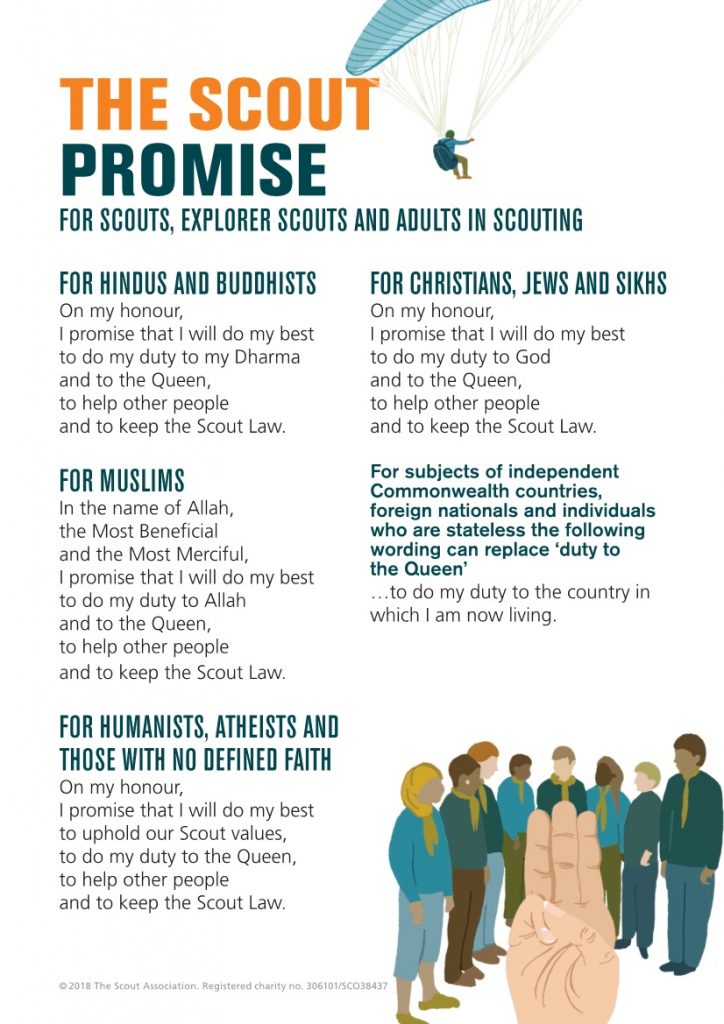 If your child would like to make their promise in Welsh then please let your leaders know, you can find the Welsh version of the promise here.
The Scout Law
A Scout is to be trusted.
A Scout is loyal.
A Scout is friendly and considerate.
A Scout belongs to the world-wide family of Scouts.
A Scout has courage in all difficulties.
A Scout makes good use of time and is careful of possessions and property.
A Scout has self-respect and respect for others.
The Investiture
To become a member of the Scout Association and our group your child will be asked to make a promise at an investiture ceremony.
This would normally be undertaken during a normal meeting, however it can be carried out at any event.
We would always try and make this a very special event for your child, however it is your child's investiture and would only be carried out when they were ready. Investitures may be delayed so that they could be carried out at a special event e.g. at camp. You, of course, would be more than welcome to witness this ceremony.
We will write and let you know the date you would like to invest your child, usually at the beginning of the troop meeting. Please let us know if this date is inconvenient so that we can rearrange.
On the date of the investiture please arrive at 18:30 in order for us to go through the ceremony with your child before the meeting starts, and you are of course more than welcome to stay and watch the Ceremony and take photos if you wish.
In order to be invested, your child will need a full Scout Uniform, which consists of a Scout Shirt, Scout Activity Trousers and a Scout Belt. More information about these can be found on the Scout Badges & Uniform page.
Some Badges, a Woggle and a Yellow Group Neckerchief will be presented during the Investiture. (Please note, that Cubs joining from the Creigiau Cub Pack can use their old necker, but not their old woggle).
if your child attended Cubs that some badges should be transferred onto the Scout uniform after the investiture has taken place – please click the below link for more information: Badges for Transfer
We look forward to welcoming your child into the Troop. If you have any questions please get in touch.
More Information about becoming a Scout and about the Investiture Ceremony can be found here: Investiture Information
Code of Conduct
In addition to the above, the Scouts themselves have helped develop the Troop's code of conduct which can be viewed via the link below: